Bustyz presents: Busty girl gets her huge tits and pussy fucked hard
Scene Title: Alotta Delotta Brown
Storyline: Meet Ms. Alotta Delotta Brown!Take one look at her and you'll see how she got that name. This sweet brown sugar is carrying around 34H's!!!!If she isn't Bustyz material i don't know who is. Plus let me tell you this girl knows how to work those tits. She shook 'em, spun 'em, and sucked her nipples using no hands!!!This scene is absolutely great big tit lover action!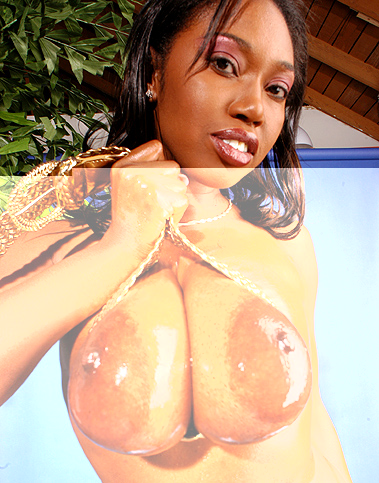 Delotta Bustyz Picture Gallery
What people are saying about: Delotta - Alotta Delotta Brown episode
Comment #1
Smokin....what else can be said...
Comment #2
She's a nice big black girl you would love to get all oily with and just fuck.
Comment #3
Brazzers Staff,Please if y'all see that Cameraman tell him I said Fuck Him for messing up most of the Butts & Blacks,Racks & Blacks,Busty & Naturals & Busty z Scenes by fucking talking that much.He ruined them. I thought the Cameraman job is film !!! I'm sayin' that beacause y'all are not updatin' anymore those Sites & you can't even watch them 'cause he's fuckin' annoyin' with his bullshit talks.I really hope that y'all fired him.
Comment #4
I Love U Delotta. can I meet u?
Comment #5
Wow!!!, that bitch is so fuckin' hot!!!, big legs, great ass, the most suckable tits!, if you look at a female like her and you don't have an erection, sorry to tell you but you are gay. Please more of this great piece of black ass!!!!