Bustyz presents: Sexy breasts Holly Halston enjoys a good fuck by a sturdy young cock
Scene Title: Bustin Out!
Storyline: There is no doubt about it that Holly Halston is a classic! Her busty chest is one of the finest and is in great demand! She makes sure to drive you crazy when she teases you with her nipples and lures you in with her hypnotic eyes. When she takes the cock, the bouncing of her tits will make you dizzy! Classic.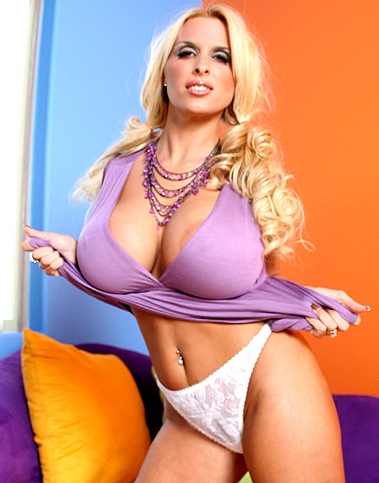 Holly Halston Bustyz Video Trailer
What people are saying about: Holly Halston - Bustin Out! episode
Comment #1
i am in love with holly halston thanks to this scene. she gives the best head in the business - hands down. those knockers are awesome. watching this scene will make you feel 18 again. guaranteed.
Comment #2
Holly is so hot with her fabulous body, her teasing, dirty talk and huge hard clit. But her husband is such a waste- can't talk, chews gum during the scene goes soft. I hope you weren't paying him.
Comment #3
I aggree...Holy is awesome and I guess this guy fucking her is her husband??? It time for some new cock for Holly! I think her career is being held back by fucking he husband. With the exception of his money shot he sucked. He looked so bored and did not say one word! Holly you deserve some fresh new cock and now!
Comment #4
Yeah they might be married. But if i was married to her you better believe every scene I had with her thered be firworks come on. You cant get into fuckin your wife on camera. You ever see Lex Steel and His wife Vanessa Blue wow thats how a married couple should fuck on camera
Comment #5
Maybe its me but this is my second time seeing Holly and her hubby but he didnt seem to happy to fuck his wife. He seemed more interested in his chewing gum. I mean damn reverse cowgirl was awful with his limp noodle. Plus that was some of the laziest titty fucking Ive seen on here. I do believe a few of you might get your wish. He looks like he is ready for DIVORCE court. UNLESS I took this video the wrong way. Are we to PRETEND that we are him and she was talking to us and not him? IF NOT he never answered her once. Who let the grizzly bear in the room at the end? Oh shit that was him.
Bustyz Holly Halston Picture Gallery