Bustyz presents: Busty Milf is sucks and fucks young cock
Scene Title: The Perfect Tit
Storyline: OK my big tit loving friends, today we have for you Milly, I beleive she has the perfect tits. I have come across many tits while working on this site but there is something special about Millys milk bags, they are the right size, the right shape, good size nipples, and they hang just right. Anyways watch this scene I am sure that all the real big tit lovers will adore those tits enjoy.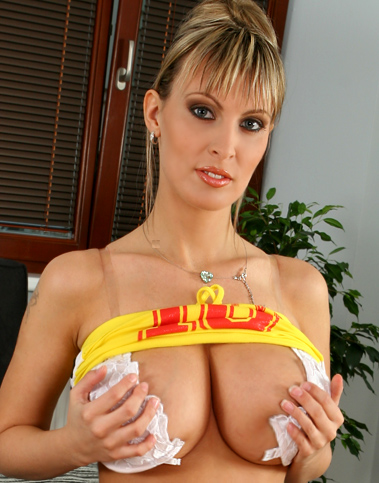 Milly Morris Bustyz Picture Gallery
What people are saying about: Milly Morris - The Perfect Tit episode
Comment #1
Milly Morris i just added you to my favourites and deleted all the others! Unfortunately it took me almost one month to find your fantastic clips on our private pages. Please come back with many more scenes!
Comment #2
she is No. 1 of the site! perfect natural big tits and good looking. more her girl on girl. make sure no dicks
Comment #3
#1 id fing drill that till the cows come home. #2 hotest body everrrrrrrrr #3 best complection and skin #4 again nice skin and great rackkkkk!! just love this chick.
Comment #4
Milly is great she just needs a guy who can fuck the crap out of her. If that is her husband he sucks!!! She can do so much better than him look at the fat fuck. Please give us more Milly without her fat husban who can not fuck!!!
Comment #5
sexiest woman in the world and the guy can't even get a boner in that one scene. the camera must have freaked him out.