Bustyz presents: Busty slut gets her huge tits oiled and fucked
Scene Title: 32Gs and Moore!
Storyline: Tyra Moore Busty fans, Tyra Moore!This tall, sexy, ebony girl is blessed with a pair of 32Gs!!!When you see this tall sexy girl with her slim frame with her pair oiled, messaged and bouncing you will lose your minds. Her tits are amazing and our guy, a tit connaiseur did everything we Busty lovers love to do!Great scene guys!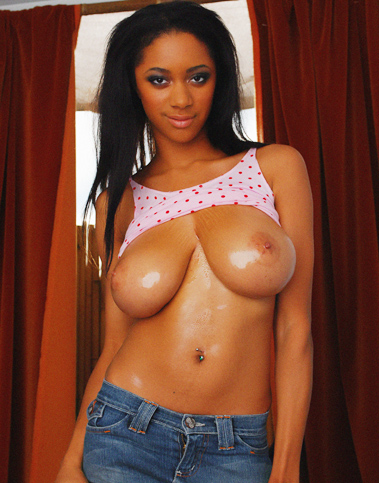 Tyra Moore Bustyz Picture Gallery
What people are saying about: Tyra Moore - 32Gs and Moore! episode
Comment #1
This Girl is natural sweet sexy and unbelievable. You do not have enough of her by a long shot.
Comment #2
I have given 3 quarts of sperm for this awesome girl.
Comment #3
The olny reason this hottie i rated so low is because she is ebony!!!! If she were white hre rating would be 8.98
Comment #4
I have to say that this must be one of my top ten favorite clips of all time and my #1 Tyra Moore video. Alex just worships Tyra's tits and pussy and she goes absolutely crazy. This is a MUST see! I would love to see another shoot with Alex and Tyra!! 10+
Comment #5
Come on, bounce those breasts on my face!