Bustyz presents: Busty girl wraps tits in saran wrap and gets banged
Scene Title: Saran Wrap has many uses!
Storyline: Today we have whitney Stevens y'all. She's young, cute and has been blessed with huge tits!! Our stud abused those huge, firm tits for us and she absolutely loved it! She oiled them up for us, tried on different bras to our liking and even wrapped those bad boys up in saran wrap - yup saran wrap!! Those huge tits bulging out of the saran wrap is a site to see i swear, i wouldnt lie to you guys! Everything you big tit fuckers want and more!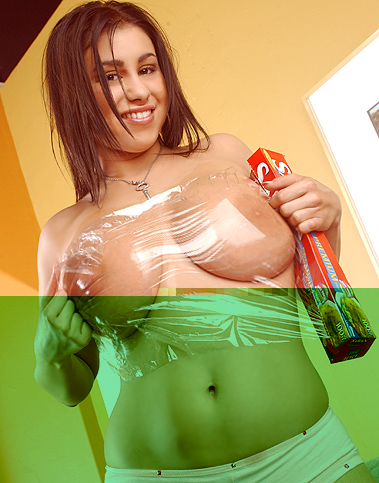 Whitney Stevens Bustyz Picture Gallery
What people are saying about: Whitney Stevens - Saran Wrap has many uses! episode
Comment #1
GREAT tit play... love the saran wrap. perfect time to see Whitney... before those tits start to droop.
Comment #2
Saran wrap is stupid but i used to not be a whitney fan but this performance has changed my mind with the exception of the SARAN WRAP, keep that shit for ham and cheese sandwiches!!!!!
Comment #3
Nice looking broad but what's with the Saran Wrap? Looks stupid.
Comment #4
I love those huge knockers
Comment #5
she is great! please more...in blacks and racks?????